Harry Graduates in 1915
and enters the University of Iowa in the Fall

---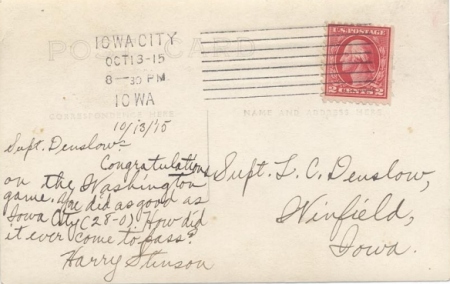 Postcard from Harry to Superintendent Denslow. For 'fact
stranger than fiction,' read "Mary's Ashes" on this web-site.
Philip Denslow hand carried this postcard toWinfield from the
State of Georgia in the year 2004. This postcard was buried in a
box of momentoes his grandfather, Lorenzo Denslow, held dear.
---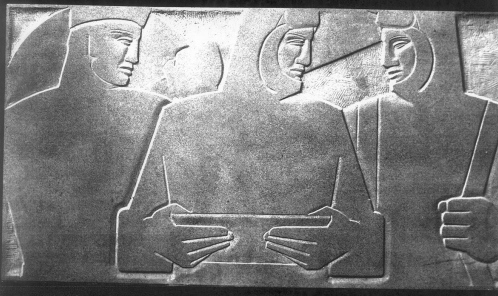 THE AIR FORCE PANEL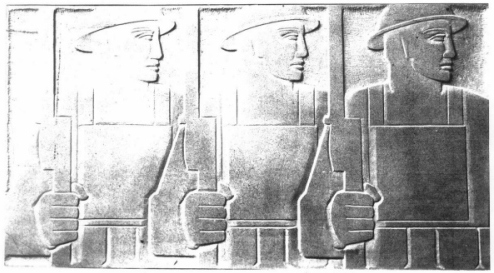 THE ARMY PANEL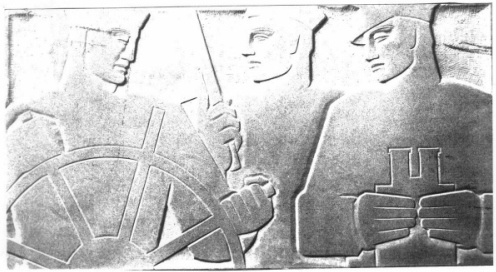 THE NAVY PANEL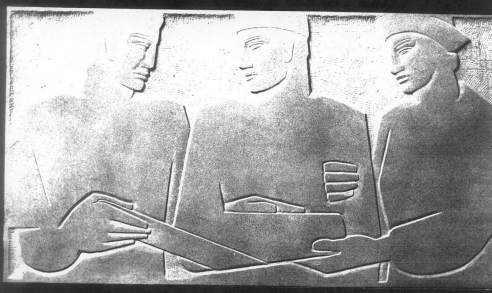 THE REHABILITATION PANEL
---
From the Daily Iowan, Iowa City, Iowa, Wednesday, December 11, 1940

How many times have you strolled into Iowa Union this fall without realizing that a significant addition has been made to the vestibule? Harry Stinson of the art department, now on a year's leave of absence, completed his work on the new sculptured panels early this fall. The reliefs are a memorial to the service and sacrifices of the sons and daughters of Iowa during the past wars. The sculptured panels are the gift of the university's class of 1933. Four of the marble designs represent the main branches of service - army, navy, air and medical. Photographs taken from the Iowa Union's dedication address by the late James B. Weaver of Des Moines are inscribed ... ....... personal discipline and subordination of the individual to the unity of organization are emphasized in the pattern of similar soldiers for the army panel, according to Stinson. A helmsman and an officer are presented in the navy panel with emphasis on the decorative effect to keep them from being dated. A ground mechanic stands near two aviators as they are preparing for flight in the aviation panel. A doctor and a nurse are attending a wounded man for the medical design. The extract from the dedicatory speech of Feb. 5, 1926, on the north panel reads - "And if this magnificent structure is to fulfill the dreams out of which it has arisen it can only do so by stirring the impulses of the young men and women of Iowa to lives of service to mankind." Beneath the south panel are inscribed the words - "So this memorial Union, this temple, this rendezvous of much hope and possibility, rises in memory of the university's sacred dead, dedicated to the ideal of service for which they made a supreme sacrifice." Ozark marble was chosen for the memorial because the entrance is already panelled in marble. A shallow relief was used because heavy traffic through the vestibule eliminated any kind of design that would project from the side walls, officals explained.


---